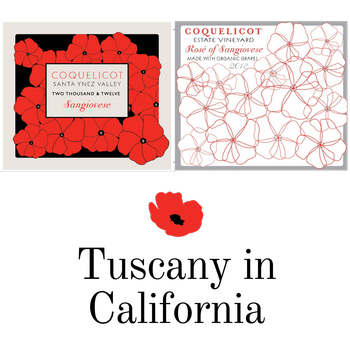 Tuscany in California
Includes one bottle of each:

2018 Rosé of Sangiovese
Pale antique pink. On the nose: a basket of fresh picked cherries leaps out of the glass, mango, passion fruit, sweet spice, and perfume. On the palate the wine is vibrant, refreshing and intertwined with summer fruit. A soft and delightful mouthfeel coats each part of your palate.

2012 Sangiovese
Beautiful aromas of dark cherry, dried herbs, and light touches of vanilla. Enjoy a balance of fruit and oak without being overbearing. The wine is medium bodied and has a silky, elongated finish. Enjoy with your favorite person and some penne Bolognese (or primavera for our vegetarians).