Vineyard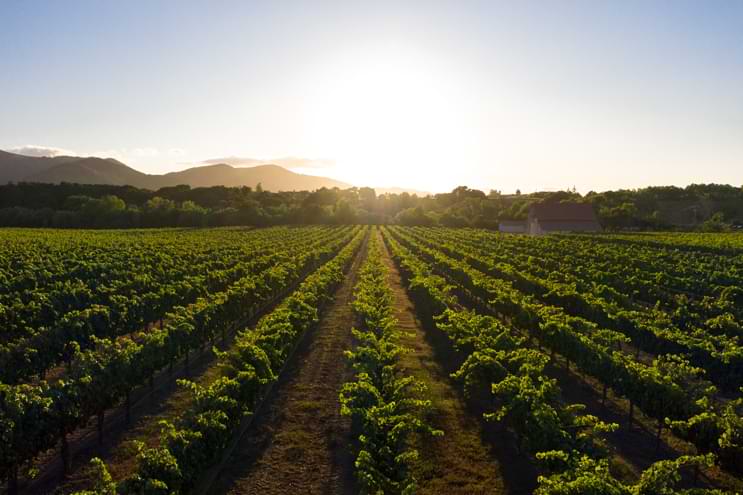 Planted in 1997 the Coquelicot Estate is the named after the French red poppy flower. The Rosenson's 94-acre CCOF Certified Organic vineyard is located in the Los Olivos District, AVA, which spans in between Ballard Canyon to the boarder of Happy Canyon. The vineyard lies just south of the historic Mission Santa Inés and on the Eastern boarder of the town of Solvang.
SOIL
Coquelicot Estate is comprised of a Ballard gravelly fine sandy loam. This soil is well drained and lacking in nutrients. This vine stress leads to a deeper root system and a more transparent wine showing varietal characteristics in good climate.
MICROCLIMATE
Our weather is temperate, and more akin to Bordeaux, with less rainfall. What makes our area special is the proximity of two east to west mountain ranges. The Santa Ynez Mountains to our south and the San Rafael Mountains to our northeast. Theses mountain ranges allow for coastal breezes to flow into the valley and cool off our vineyard. This is the only east-west mountain range on the entire Pacific Coast all the way to Alaska. Our unique location at the valley floor allows cool air from the coast to settle, leading to a longer temperate growing season. We can have swings of 50 degrees between day and night. This helps preserve our acidity while reaching phenolic ripeness. This temperate growing season allows us the opportunity to dictate the style of wine.
ORGANIC
In 2007 we implemented sustainable and organic farming protocols with the outcome of obtaining our organic certification by the California Certified Organic Farmer association in 2015. This process takes five years to complete and requires yearly testing, site inspection, and reporting to the association. It all starts with healthy soils. Our commitment to organic agriculture runs deep. Organic grape growing is more than just resisting the use of synthetic pesticides and fertilizers. Instead of using toxic herbicides, we take care of weeds the old-fashioned way. In place of chemical fungicides, we use a biodegradable natural mineral oil derived from stylet flowers to combat powdery mildew and botrytis bunch rot. We practice in regenerative farming which lets nature take its natural course. Every element in the vineyard is there for a reason and creates a symbiotic relationship. Even the weeds add something to the picture. Healthy microorganisms in the soil make for healthy vines. By creating a bio-diverse farm landscape that encourages natural predators, we eliminate the need for insecticides. Cover crops are planted as a natural way to introduce nutrients to the soil. These cover crops include a variety of grasses, legumes, and mustards that protect the soil from erosion. These plants also fix nitrogen into the soils and offer a habitat for many beneficial insects. The benefit of cover cropping over a period of years contributes greatly to the health of the soil and the quality of our vines. Cover cropping is also a form of companion planting. Mustards, for example, when grown alongside grapevines help discourage soil born nematodes (tiny little worms) that would feed on grapevine roots.