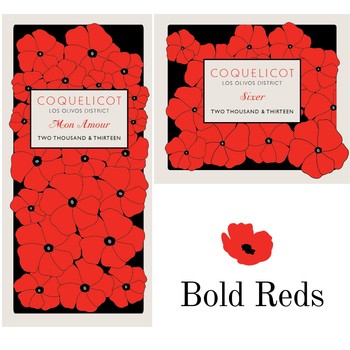 Bold Reds
Includes one bottle of each:

2013 Mon Amour
At first glance gorgeous aromas of deep blackberry and violet floral notes followed by clove, vanilla and sweet sandalwood. The taste is just as intoxication as the nose with juicy mouth coating red plum, black cherry and vanilla. The wine has mouth-coating tannins; its big and bold with plenty of acidity and structure to age for years to come. The finish is nice and lengthy with layers of fruit and hints of earth and spice.
2013 Sixer
It might be hard to believe but adding an aromatic white grape like Viognier into a bold opaque wine would not only refine it, but also make it even darker. Flowers are always nice, but they are oh so much better when they are delivered in a bottle. Once you open the 2013 "Sixer" be prepared to enjoy an onslaught on intoxicating aromas of fresh roses. The bouquet is elongated by scents of white pepper, forest floor, and black cherry. Soft and silky tannins are well integrated and followed by a pleasant burst of acidity. Full bodied for sure, but still has a very feminine side. Adding 6% Viognier allows the tar, tobacco, and dried fruit aromatics to polish off a fresh scent of flowers and blueberries. The mouth becomes less aggressively tannic from this tiny addition, leaving our estate wine with a long smooth finish. This is not just Syrah, but Syrah in Black Tie attire – hopefully it won't go stag, unless that is what you are having for dinner.