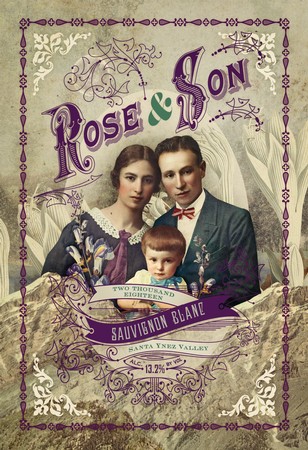 2018 Rose & Son Sauvignon Blanc
SAUVIGNON BLANC, 2018
Clone: 50% Clone 1 & 50% Musque on 5BB rootstock
Vineyard: Coquelicot Organic Estate, CCOF Certified Organic
Soil Series: Positas fine sandy loam
Appellation: Santa Ynez Valley
Harvest date: September 6-10, 2018
Brix at harvest: Average 21.5 brix
Alcohol: 13.2%
Aging: 8 months Stainless Steel
Bottling Date: April 2019
Production: 433 Cases
Fermentation: 90% Whole cluster pressed to tank. 10% destemmed with 24 hours skin contact. Settled twenty-four hours then racked to tank, barrel and concrete barrels. 20 ppm so2 added to inhibit malolactic fermented. Native primary fermentation. Bottled after light fining with bentonite and sterile filtration.
Growing season: Late bloom and fruit set. September typically being our warmest month, our grapes were not affected by late season heat due to the crop load and early harvest date. The total degree days just over 2500 and annual rainfall for the year 10.38".
Ingredients: Hand harvested, organically farmed grapes, indigenous yeast, naturally occurring lactic acid bacteria and minimum effective SO2
Tasting Note: Aromas of sweet citrus, white flowers, guava, finger limes. On the palate a soft and delicate, ripe citrus and melon. Juicy acidity harmonizing the burst of citrus and nectarine.