Spinach Crepes with Pan-Roasted Vegetables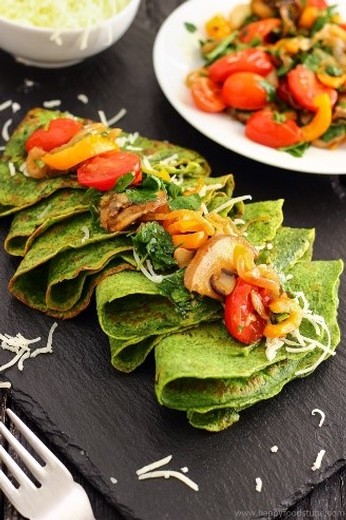 Recipe Date:
January 3, 2019
Measurements:
Imperial (US)
Spinach crepes with pan-roasted vegetables. Ginger & spinach crepes are topped with mushrooms, tomatoes, pepper & onion. Great dish for brunch, lunch or light dinner!
Ingredients
1 cup Plain Flour
4 cups Fresh Spinach
1 tsp Pink Himalayan Salt
1 Large Egg
1 Thumb-Size Piece of Fresh Ginger, Grated
1 cup Milk
1 tbsp Dried Oregano
1 cup Grated Cheese of your Choice
Any Oil of Choice for frying
2 cups Chopped Mushrooms
1 Yellow Bell Pepper
1 Medium Onion
2 cups Cherry Tomatoes
2 cups Chopped Flat Leaf Parsley
3 Garlic Cloves
3 tbsps Butter
Directions
Spinach Crepes:
1. In a food processor/blender process spinach & milk until smooth. Pour this in a mixing bowl. Add flour, salt, egg, and grated ginger. Whisk until well combined.
2. Heat up your frying pan. Add a tiny amount of oil and pour the batter in - use a 1/4 measuring cup. Spread around evenly by lifting the pan and turning it allowing the batter to spread.
3. Once set, turn it over and cook for a further 1/2 minute to a minute or until cooked.
Pan-roasted vegetables:
1. In a frying pan, melt butter. Add sliced onion, mushrooms and pepper (cut into stripes). Roast for 10 minutes before adding cherry tomatoes & garlic. Roast for a further 2-3 minutes. Turn off the heat and stir in parsley.
2. Top or fill crepes with vegetable mixture and sprinkle with grated cheese.
3. Best served while they are still warm.