Spicy Shrimp Stir-Fry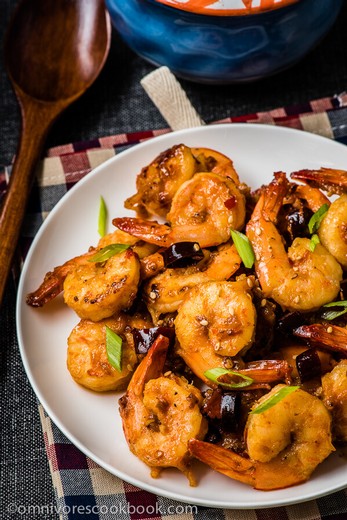 Recipe Date:
January 3, 2019
Measurements:
Imperial (US)
These hot shrimp are so appetizing, scrumptious, and flavorful, that you can hardly imagine they require only 15 minutes to get ready, including marinating time! The sugar balances the the spiciness and brings out the best flavor of the shrimp. It makes the shrimp even richer and infuses a nice umami, instead of simply tasting spicy.
Ingredients
2 cups Peeled Shrimp
1 tbsp Shaoxing Wine
1 tbsp Light Soy Sauce
1 tbsp Cornstarch
1 tsp Ginger,Minced
1 tbsp Peanut Oil
4 tbsps Sichuan All-Purpose Chili Garlic Sauce
1 1/3 tbsps Sugar
Directions
1. Combine shrimp, Shaoxing wine, and light soy sauce in a medium sized bowl. Mix well. Add cornstarch and mix by hand, until the shrimp is evenly coated. Marinate for 10 minutes.
2. Chop ginger while the shrimp is marinating.
3. Heat a wok over medium high heat until hot. Add oil and swirl the wok to cover the bottom (or add oil into a nonstick skillet and heat until hot). Add ginger and stir a few times until fragrant.
4. Add shrimp, spreading them quickly over the bottom of the wok. Let them cook without stirring for 20 to 30 seconds. The shrimp won't stick to the bottom of the wok this way. Stir and flip the shrimp. Keep cooking until the surface is cooked and turns golden, about 1 minute.
5. Add all-purpose chili garlic sauce and sugar. Stir to mix well and until the shrimp is curled, about 1 minute. Turn to lowest heat. Taste the shrimp and adjust flavor by adding salt, if necessary. Stir to mix well and remove from heat.
6. Serve warm as a main over steamed rice or cooked noodles.