Spaghetti with Slow-Cooker Meatballs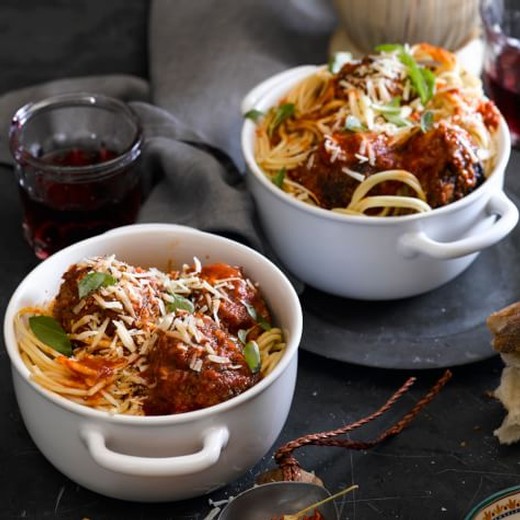 Recipe Date:
September 24, 2018
Measurements:
Imperial (US)
This comforting Italian Sunday supper of spaghetti and meatballs is perfect for any day of the week. It's made with our time-saving braising sauce, which brings home the classic flavors of Italy. For an even deeper flavor, brown the meatballs before braising them in the sauce. If you have a slow cooker with an all-in-one browning function, simply set the slow cooker to "brown" and warm 2 Tbs. olive oil until almost smoking. Sear the meatballs, turning them occasionally, until browned all over, about 5 minutes, before setting the machine to the slow-cooker setting, adding the braising sauce and continuing the recipe as directed below.
Ingredients
2 tbsps Extra Virgin Olive Oil
1 Yellow Onion, (finely diced)
Kosher Salt & Ground Pepper
1 Garlic Clove (minced)
1 1/4 cups Plain Yogurt
1/4 cup Water
1/2 cup Dried Bread Crumbs
1 Egg
1/2 cup Grated Parmesan Cheese
2 tsps Fresh Parsley (finely chopped)
1/2 lb Ground beef
1/2 lb Ground Pork
1 Meatball Marinara Braising Sauce
12 ozs Dried Spaghetti
Directions
Directions:
In a sauté pan over medium heat, warm the olive oil. Add the onion and a pinch each of salt and pepper and cook, stirring occasionally, until caramelized, about 15 minutes. Add the garlic and cook, stirring occasionally, until fragrant, about 1 minute. Let cool completely.
In a small bowl, whisk together the yogurt and water. Stir in the bread crumbs and let stand for 5 minutes.
In a large bowl, whisk together the egg, Parmesan, parsley, basil and a pinch each of salt and pepper. Stir in the onion mixture and then the bread crumb mixture. Add the beef and pork and mix gently but thoroughly with your hands until combined. Scoop into balls, using about 3 Tbs. for each.
Transfer the meatballs to a slow cooker and add the braising sauce. Cover and cook on high according to the manufacturer's instructions until the meatballs are cooked through, about 2 hours, adding 1/2 cup (4 fl. oz./125 ml) water during cooking if more liquid is needed.
About 15 minutes before the meatballs are done, bring a large pot two-thirds full of salted water to a boil over high heat. Add the pasta to the boiling water and cook according to the package instructions until al dente (tender but firm to the bite). Drain the pasta well and divide among 4 individual bowls. Spoon the meatballs and sauce on top of the pasta and serve. Serves 4.