Smoked Salmon Croquettes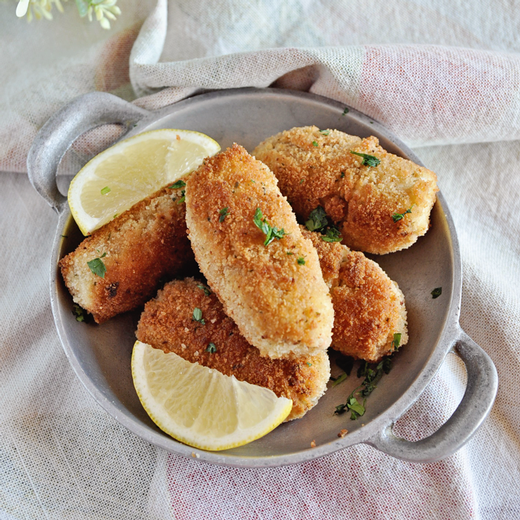 Recipe Date:
January 3, 2019
Measurements:
Imperial (US)
These Smoked Salmon Croquettes are delicious. They pack that great crunch that some love and have a flavor that just explodes in your mouth. This is the perfect appetizer for any cocktail party or family get-together, and everybody will love it!
Ingredients
4 ozs Smoked Salmon
4 ozs Cream Cheese
1/2 tsp Dried Dill
1/2 tsp Onion Powder
Black Pepper
1/2 cup Flour
1 Organic Egg
1 tbsp Organic Milk
1 cup Bread Crumbs
1/4 tsp Dried Parsley
1/4 tsp Sea Salt
1/4 cup Sunflower Oil Or Your Choice
Fresh Parsley
Lemon Wedges
Directions
1. Add 4 ounces of cream cheese into a bowl, dice 4 ounces of smoked salmon, which is about 2 slices (the easiest way to dice up smoked salmon is to roll up each slice like a cigar, cut it right down the middle and then thinly slice it), then add the diced smoked salmon to the bowl with the cream cheese, next add 1/2 teaspoon of dried dill, 1/2 teaspoon of onion powder, season with freshly cracked black pepper and mix everything together until well mixed, cover with seran wrap and add to the fridge for at least 15 minutes
2. Add 1/2 cup of all-purpose flour to a bowl, add 1 cup of plain breadcrumbs into a seperate bowl and season with a 1/4 teaspoon of sea salt and a 1/4 teaspoon dried parsley, and mix it all together until well mixed, finally crack 1 organic egg into another bowl, season with sea salt and mix the egg, then add 1 tablespoon of organic milk and mix with the egg until well mixed
3. Using a spoon grab some of the smoked salmon mixture and shape it with your hands into a croquette (about the size of an egg), then coat it in the flour, then the egg wash and then the breadcrumbs, then repeat each step for a double coating (this will prevent the inside from oozing out while frying) follow these steps until all the smoked salmon mixture is done
4. Heat a small non-stick frying pan with a medium-high heat and add a 1/4 cup of sunflower oil
5. Once the oil get´s hot start cooking your croquettes, cook them for about 1 1/2 minutes per side (3 minutes total) then transfer to a plate with paper towels, cook them in batches that way you don´t overcrowd the pan
6. Decorate the cooked croquettes on a plate and garnish with fresh parsley and some lemon wedges
7. Enjoy!