Sausage and Potato Pan Roast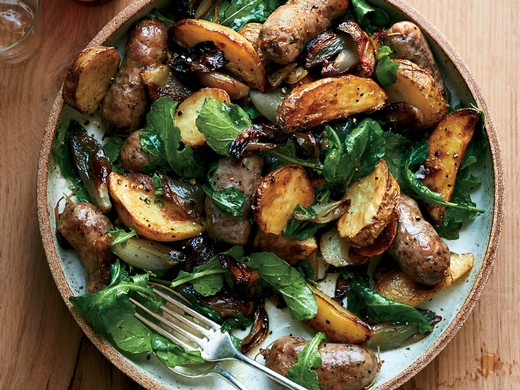 Recipe Date:
July 31, 2019
Measurements:
Imperial (US)
Ingredients
2 Large red potatoes, cut into 1 1/2 inch pieces
2 Yukon Gold Potatoes, cut into 1 inch wedges
1 Large baking potato, cut into 1 1/2 inch wedges
10 Medium unpeeled shallots, halved
1/3 cup Extra-virgin olive oil, plus more for brushing
Salt and Pepper
1 1/2 lbs Sweet Italian sausage, cut into 3 inch lengths
1 8 oz bunch of arugula, stemmed and chopped
1 tbsp Fresh lemon juice
Directions
Step 1:
Preheat the oven to 425°. On a large rimmed baking sheet, toss all of the potatoes with the shallots and the 1/3 cup of olive oil. Season generously with salt and pepper. Roast for about 15 minutes, until the potatoes are lightly browned. Brush the sausage with olive oil and add to the baking sheet. Roast for 20 to 25 minutes longer, until the potatoes are tender and the sausage is cooked through.
Step 2:
Transfer everything on the baking sheet to a platter. Fold in the arugula and lemon juice, season with salt and pepper and serve.