Roasted Beet Salad with Goat Cheese and Pistachios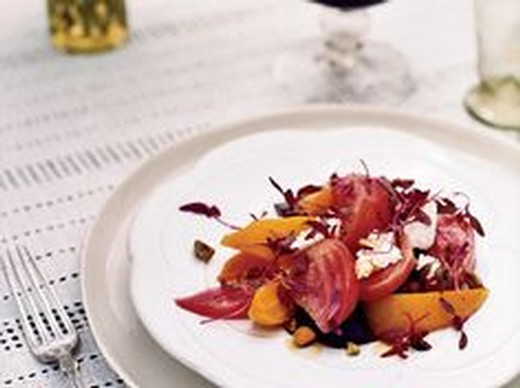 Recipe Date:
July 3, 2019
Measurements:
Imperial (US)
Ingredients
32 Small beets
3 Garlic cloves
1 Thyme Sprig
6 1/2 tbsps Canola Oil
Kosher salt & Freshly ground pepper
1/2 cup Unsalted pistachios
1/4 cup Sherry vinegar
1/3 cup Extra-virgin olive oil
6 ozs Fresh goat cheese
1 cup Microgreens
1 tbsp Pistachio Oil (optional)
Directions
In a baking dish, toss the beets with the garlic, thyme and 2 tablespoons of the canola oil; season with salt and pepper. Cover with foil and bake in a 350° oven for 30 minutes, or until tender. Let cool, then peel and quarter the beets. Transfer the beets to a bowl; if using golden and red, put them in separate bowls. Toss the pistachios with 1/2 tablespoon of the canola oil and season with salt and pepper. Toast in the oven for 5 minutes. In a bowl, whisk the vinegar with the olive oil and the remaining 1/4 cup of canola oil. Toss the beets with the vinaigrette, season with salt and pepper and arrange on a platter. Crumble the goat cheese on top and sprinkle with the pistachios and microgreens; drizzle with the pistachio oil and serve.