Penne with Salsa Verde, Mozzarella, and Cherry Tomatoes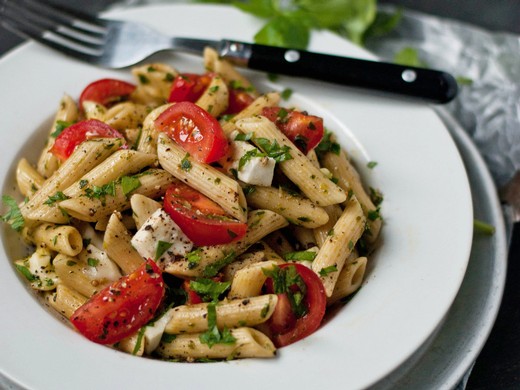 Recipe Date:
July 31, 2019
Measurements:
Imperial (US)
Ingredients
3/4 cup Packed flat-leaf parsley with thick stems removed
2 Cloves garlic, smashed
1 1/2 tbsps Drained capers
1/2 tsp Anchovy paste
6 tbsps Olive oil
3/4 tsp Red-wine vinegar
3/4 tsp Salt
1/4 tsp Fresh-ground black pepper
3/4 lb Penne rigate
3/4 lb Fresh mozzarella, cut in 1/4 inches cubes
2 cups Cherry tomatoes, cut into quarters
Directions
Step 1:
In a blender or food processor, puree the parsley, the smashed garlic, the capers, and the anchovy paste with the olive oil, the wine vinegar, and the salt and pepper.
Step 2:
In a large pot of boiling, salted water, cook the penne rigate until just done, about 13 minutes. Drain.
Step 3:
In a large bowl, toss the pasta with the parsley mixture, mozzarella, and tomatoes.