Peach Glazed Pork Chops and Stuffing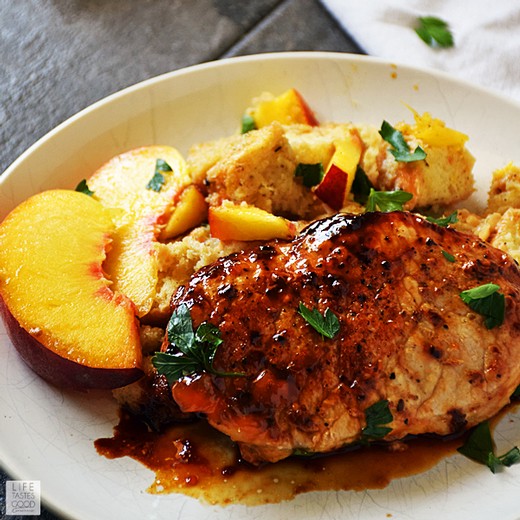 Recipe Date:
January 2, 2019
Measurements:
Imperial (US)
Peach Glazed Pork Chops and Stuffing is an easy meal you can enjoy any night of the week! This easy recipe pairs sweet, fresh peaches with savory homemade stuffing and pork for an exciting flavor combo the whole family will love. Even more exciting is having a delicious dinner made with fresh ingredients on the table in about 30 minutes!
Ingredients
6 cups Cubed Bread
1 tbsp Unsalted Butter
1 cup Diced Onion
3/4 cup Diced Celery
1 Fresh Diced Peach
2 1/2 tsps Dried Sage
1/2 tsp Dried Thyme
1 cup Water
1/2 tbsp Chicken Broth
Salt and Pepper to taste
4 Boneless Pork Lion Chops
1/3 cup Peach or apricot Preserves
1/2 tbsp Dijon Mustard
Freshly Chopped Parsley
Fresh Peach Slices
Directions
1. Preheat oven to 350°F. Line a baking sheet with foil and spread the bread cubes out in a single layer on the baking sheet. Bake in the preheated oven until evenly toasted, about 5-7 minutes. Transfer to a large, heat-proof bowl and set aside.
2. In a skillet over mid-high heat, melt 1 tablespoon of butter. Saute 1 cup diced onion with 3/4 cup diced celery and a diced peach until the vegetables soften. About 5 minutes.
3. Season with 2.5 teaspoons dried sage and 1/2 teaspoon dried thyme. Stir to incorporate and add 1 cup water with 1/2 tablespoon of chicken base. Stir to combine and give it a taste. Add salt & pepper as needed. NOTE: You can also use 1 cup of chicken broth if you prefer.
4. Pour the chicken broth mixture over the toasted bread and stir to coat. If the bread is too dry, add more chicken broth to your desired consistency.
5. Season pork chops with salt and pepper on both sides. In the same skillet over mid-high heat, melt 1 tablespoon butter and place pork chops in the skillet. Sear for 3 minutes and flip over. Brush with peach glaze (see next step to make peach glaze while chops are searing) and sear for 3 more minutes. Flip again and brush other side with peach glaze. Check internal temperature for doneness. Pork chops are done when an instant-read thermometer inserted in thickest part of chop registers 140°F. Allow to rest for 5 minutes.
6. While the pork chops are searing, combine 1/3 cup peach or apricot preserves with 1/2 tablespoon Dijon mustard in a microwave safe dish (I use a measuring cup). Heat in the microwave for 30 seconds to a minute until the preserves are melted. Divide this mixture in half and use one half for basting while the chops are cooking and reserve the other half to serve with the chops.
7.Serve the pork with the stuffing and reserved peach glaze. Garnish with freshly chopped parsley and fresh peaches.Enjoy!