Lemony Roasted Asparagus and Cauliflower Salad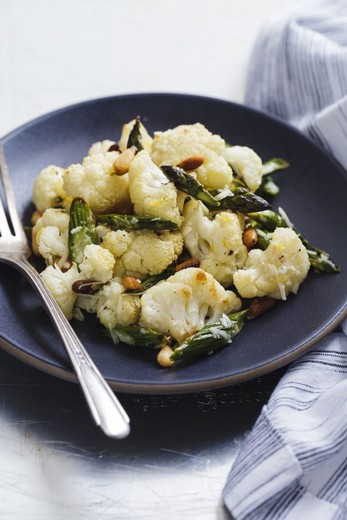 Recipe Date:
January 3, 2019
Measurements:
Imperial (US)
This lemony roasted asparagus and cauliflower salad comes together with the things you'll find in your fridge: asparagus, cauliflower, lemons, pine nuts, and parmesan. Tossed together for a perfect springtime potluck salad.
Ingredients
1 lb Cauliflower Florets
1/2 lb Asparagus Spears, Spears Sliced Diagonally
1 tbsp Extra Virgin Olive Oil
1/4 cup Pine Nuts, Toasted
1/4 cup Freshly Grated Parmesan Cheese
1 tbsp Lemon Juice
Zest of Full Lemon
Salt and Pepper, To Taste
Directions
1. Preheat the oven to 425°F and line a baking sheet with parchment paper or a silpat mat.
2. Toss the cauliflower florets and cut asparagus in ½ tablespoon of olive oil. Season with a pinch of salt and pepper, and roast in the oven for 20-25 minutes, tossing halfway through, until the cauliflower begins to brown and soften (but is not mushy!).
3. Refrigerate until cool, about 15-20 minutes (you can either transfer it to a bowl or if you can fit the whole baking sheet in the fridge, this works faster since it's all spread out!).
4. Toss the roasted cauliflower & asparagus with remaining ½ tablespoon olive oil, pine nuts, parmesan, lemon juice, and lemon zest. Season to taste with salt & pepper. Serve cold or at room temperature.