Honey Lime Baked Wild Salmon with Mango & Black Bean Salsa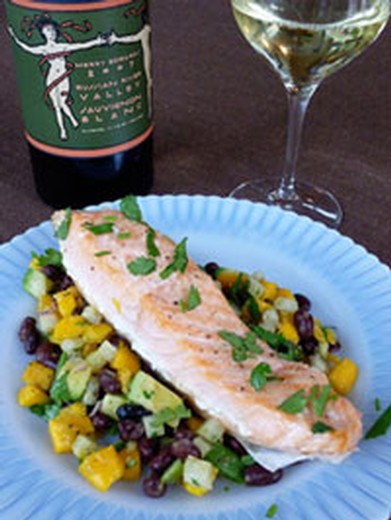 Recipe Date:
July 3, 2019
Measurements:
Imperial (US)
Ingredients
1 lb Wild Salmon
1 tbsp Extra Virgin Olive Oil
1 tbsp Fresh Lime Juice
1 tbsp Raw Honey
Salt & Pepper to taste
1 cup Diced Mango
1 cup Diced Jicama
1 Avocado, Diced
1 Can organic black beans, rinsed and well drained
1 Jalapeno Pepper, seeded & minced
3 tbsps Fresh chopped cilantro
2 tbsps Minced red onions
2 tbsps Fresh lime juice
1 tsp Fresh minced garlic
1/2 tsp Ground cumin
Salt & Pepper to taste
Directions
Salmon
Preheat oven (or BBQ) to 400 °F. Place salmon in a lightly greased shallow pan, just the size of the salmon. (To barbecue, place salmon in a pan lined with heavy-duty aluminum foil.) Mix oil, lime juice and honey together in a small bowl and spoon over the salmon. Sprinkle with salt & pepper. Bake for 15 to 20 minutes until firm, but still moist & flaky.
Mango & Black Bean Salsa
In a medium bowl, place mango, jicama, avocado, black beans , jalapeño, 3 tablespoons of the cilantro and red onions. In a small bowl mix lime juice, salt, garlic, cumin and black pepper. Gently stir the lime dressing into the mango mixture and divide the salsa between four plates. Top each with a piece of Honey Lime Baked Wild Salmon, garnish with a bit more cilantro and serve.