Grilled Summer Veggie Pesto Pasta Salad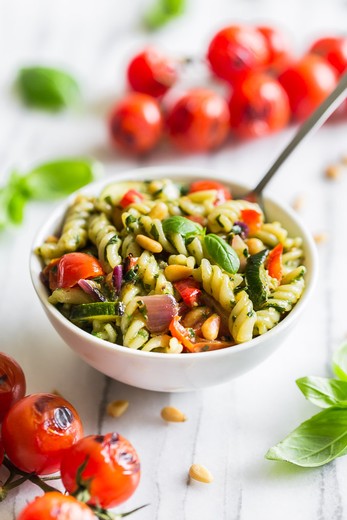 Recipe Date:
January 3, 2019
Measurements:
Imperial (US)
This Grilled Summer Veggie Pesto Pasta Salad is perfect for summer. It is healthy and full of flavor. This recipe is also great if you happen to have a some zucchini on your hands.
Ingredients
2 Zucchini, 1 Pound
2 Red Bell Peppers, 14 Ounces Total
1 Red Onion, 12 Ounces Total
2 cups Cherry Tomatoes
1 12 Ounce Package Gluten Free Pasta
1 tsp Dijon Mustard
1/4 cup White Wine Vinegar, Or Freshly Squeezed Lemon Juice
1/2 tsp Sea Salt
1/2 tsp Freshly Ground Black Pepper
1/4 cup Toasted Pine Nuts, Almonds & Walnuts Work As Well
1 Clove Garlic, Minced
1 tbsp Nutritional Yeast
1/2 cup Olive Oil
1 cup Baby Spinach
2 cups Basil Leaves
Directions
1. Preheat the grill over medium high heat until it reaches a temperature of 350º-400ºF.
2. While the grill heats, prepare the veggies. Start by cutting off both ends from the zucchini, then slice them in half lengthwise. Core the bell peppers, cut them in half, and remove the ribs and seeds. Cut off both ends on the onion, and peel away the tough outer layer. Then cut it into 1/2″ slices from the top to the bottom. Wash the cherry tomatoes and drain them in a colander.
3. Clean and oil the grill, then place the veggies across the surface. Grill for 4-6 minutes per side, or until crisp tender, for everything except the cherry tomatoes which cook in just 2-3 minutes.
4. When all the veggies are done, remove them from the grill and set them aside to cool.
5. Meanwhile cook the pasta to al dente, then drain and thoroughly rinse the pasta with cold water to stop the cooking process.
6. Place all the ingredients for the dressing into a blender and blend until mostly smooth, but with a bit of chunkiness remaining.
7. When the veggies have cooled enough to work with, cut them into small bite sized pieces. Halve or quarter the cherry tomatoes to make bite sized pieces, depending on their size.
8. Mix together the chopped veggies with the cooked pasta, and toss with the dressing.
9. Garnish with the pine nuts and basil if desired, and serve. Any leftovers keep well for about 1 day. Gluten free pasta will get harder over time in the refrigerator unlike regular pasta.