Fried Cauliflower with whipped feta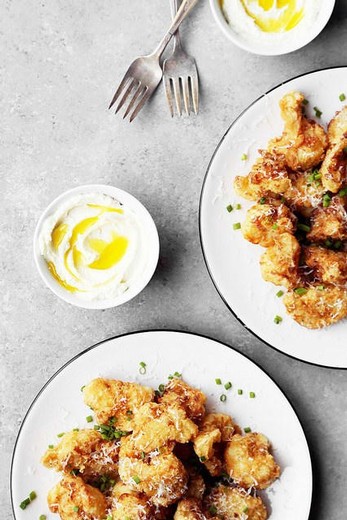 Recipe Date:
July 3, 2019
Measurements:
Imperial (US)
Ingredients
1 Large head of cauliflower, cut into florets
2 Large eggs
2 tbsps Milk
1 1/2 cups All purpose flour
1/2 cup Grated parmesan cheese
1 tsp Salt
1 tsp Black pepper
1/2 tsp Granulated garlic
1/2 tsp Granulated onion
1/2 tsp Paprika
2 tbsps Fresh chives, chopped
vegetable oil for frying
4 ozs Fresh goat cheese
3 ozs Cream cheese
3 ozs Feta
1/3 Heavy cream
1 tbsp Fresh lemon juice
3 tbsps Olive oil
1/2 tsp black pepper
Directions
Bring a large pot of water to a boil, season with a few pinches of salt. Throw in the cauliflower and simmer for about 5 minutes. Drain and allow to cool down completely.
Fill a large pot or skillet with enough vegetable oil to fill the pot just about halfway. Heat to 370℉ with a candy thermometer.
In a small shallow dish, beat the eggs with the milk until smooth. In a separate shallow dish mix the flour with the parmesan cheese, salt, pepper, granulated garlic, granulated onion, and paprika. Coat the cooled cauliflower by dipping into the flour mixture, eggs and then into the flour mixture once again. Place on a wire rack and allow to air dry until the rest are fully dredged.
Fry the cauliflower in batches until golden brown and crispy. Drain on a plate or platter, lined with paper towels. Transfer to a wire rack and continue frying the rest. Keep warm in a preheated 250℉ oven. Garnish with fresh chives and parmesan.
To make the whipped feta, combine all of the ingredients in a food processor and blend until smooth. Serve on the side with a drizzle of olive oil. Enjoy!