Curried Chicken Salad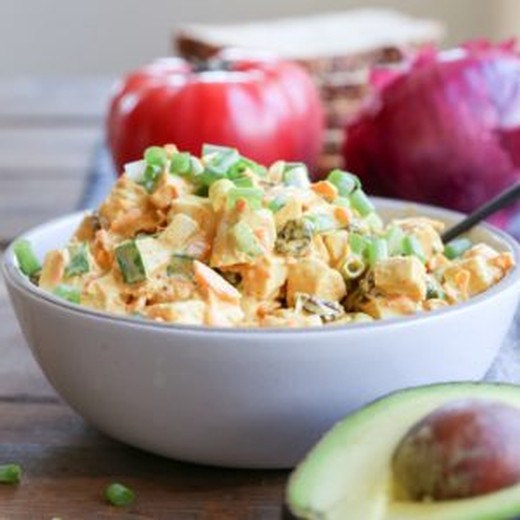 Recipe Date:
January 3, 2019
Measurements:
Imperial (US)
If you're looking for a quick and easy lunch recipe that you can prepare ahead of time. Chicken, raisins, carrots, green onion, and cashews make up this salad. A combo of yogurt and mayo for the dressing to lighten it up a bit and keep things real fresco.
Ingredients
1 lb Boneless Skinless Chicken Breasts
1/4 cup Whole Milk / Greek Yogurt
1/4 cup Mayonnaise
2 tsps Lemon Juice
2 tsps Mustard
1/2 tsp Pure Maple Syrup
1 tbsp Yellow Curry Powder
3 Green Onions, Sliced
1/2 cup Raw Cashews
1/2 cup Raisins
1 cup Grated Carrot
Directions
1. Heat a large pot of water and bring it to a full boil. Add the raw chicken breasts and reduce heat slightly. Cook for 5 to 8 minutes (depending on thickness of chicken), or until chicken is cooked through. Place chicken on a cutting board, chop into cubes, and allow it to cool.
2. Whisk together the yogurt, mayo, lemon juice, mustard, maple syrup, and curry powder until well-combined.
3. Add the green onion, cashews, raisins, and grated carrot to a large mixing bowl, along with the cooled chopped chicken. Pour the curry dressing over everything and mix well until everything is coated.
4. Enjoy!