Crispy Fish Tacos with Jalapeno Sauce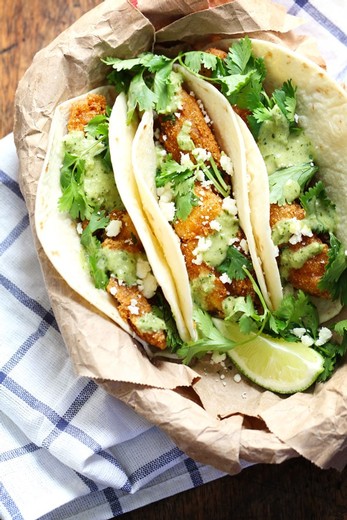 Recipe Date:
July 3, 2019
Measurements:
Imperial (US)
Ingredients
2 lbs White fish
1 cup Flour
1/4 cup Cornstarch
1 tsp Chili powder
1 tsp Baking powder
1/2 tsp Salt
1 cup light beer
1 egg,beaten
vegetable oil for frying
12 Flour or corn tortillas
Cilantro for topping
Cotija cheese for topping
1 Large jalapeno
1 cup Cilantro leaves
1/4 cup Green onions
1/4 cup oil
1/4 cup Greek yogurt
1/4 cup Water
1/2 Avocado
1/2 tsp Salt
Directions
Puree all the jalapeño sauce ingredients in a food processor until your desired consistency is reached. I sometimes add a little more oil or water at the end to make the sauce less gloppy and more drizzle-able.
Pat the fish dry with paper towels and cut into 2-3 inch pieces. Put 1/2 cup flour in a shallow bowl and set aside. In a separate bowl, whisk 1/2 cup flour, cornmeal, cornstarch, chili powder, baking powder, and salt. Add the beer and the beaten egg; stir until combined to form the batter.
Pour enough oil in a frying pan so that the fish will be partially submerged while frying. Heat the oil until a drip of water sizzles across the top. Dip each piece of fish in the plain flour, then the batter, then transfer to the hot oil. Fry on each side for 3-5 minutes or until golden brown and crispy. Remove from the frying pan and transfer to a plate lined with paper towels to drain excess oil. Sprinkle with salt while still hot; let cool slightly.
Arrange your tacos with a few pieces of fish, cilantro, Cotija cheese, and jalapeño sauce.