Baked Rigatoni with Cauliflower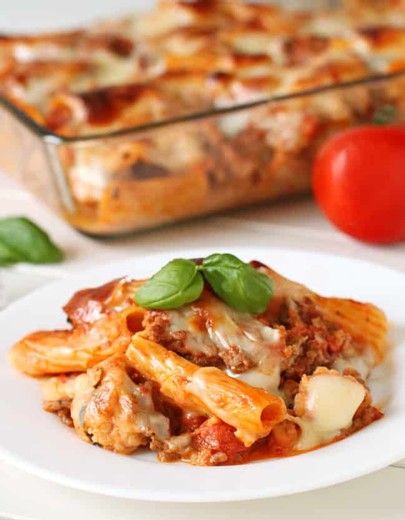 Recipe Date:
January 3, 2019
Measurements:
Imperial (US)
This baked rigatoni with cauliflower is one of the tastiest ways to incorporate veggies into a meal. Baked rigatoni takes a bit more time to prepare, but it's easy to put together the night before and bake right before serving. You'll have a warm, hearty dinner in 30 minutes!
Ingredients
1 lb Frozen Cauliflower Florests
1/2 lb Ground Pork
1/2 lb Ground Beef
2 tsps Italian Sausage Spice Blend
1/2 lb Uncooked Rigatoni Pasta
3 tsps Garlic, Minced
3 28-Ounce Cans of Crushed Tomatoes
1 tsp Salt
3/4 tsp Crushed Red Pepper Flakes
8 ozs Cream Cheese
1/2 cup Fresh Basil Leaves, Cut into Strips
1/2 cup Parmesan
1/2 lb Mozzarella Cheese
Directions
1. Prepare the frozen cauliflower florets according to the package instructions. For me, this meant letting the cauliflower defrost, sprinkling a little water over the cauliflower, and microwaving in a microwave safe dish on full power for 3 minutes.
2. Rinse the cauliflower and pat it dry.
3. In a large bowl with a fork, mix together the ground pork, ground beef and 2 teaspoons of the Italian sausage spice blend.
4. Heat your largest pan over medium high heat and cook the ground meat, stirring occasionally, until no longer pink, about 7 minutes. Add more Italian seasoning to taste.
5. Meanwhile, prepare the noodles according to package instructions.
6. Spoon the meat onto a plate lined with a paper towel, drain all but about a teaspoon of the fat from the pan, and return the pan to the heat.
7. Preheat the oven to 450°F and grease a large lasagna pan or casserole dish.
8. Add the minced garlic to the pan and cook for about 1 minute or until fragrant.
9. Add the crushed tomatoes, salt, and crushed red pepper flakes and stir.
10. Let this simmer for 3 minutes, still over medium high heat, and then stir in the cream cheese, basil and Pecorino Romano.
11. Add in the meat, stir, and salt to taste.
12. Add in the noodles and cauliflower and stir until well combined.
13. Pour half of the pasta mixture into the prepared lasagna dish.
14. Cover with half of the mozzarella.
15. Add the remaining pasta and the remaining mozzarella on top of that.
16. Bake for 20 minutes or until the cheese starts to turn golden brown. If the rigatoni was previously refrigerated, bake for 25 - 30 minutes.
17. Remove the rigatoni from the oven, let it sit for 10 minutes and then serve.