BBQ Margarita Chicken Tostadas with Sweet Jalapeno Salsa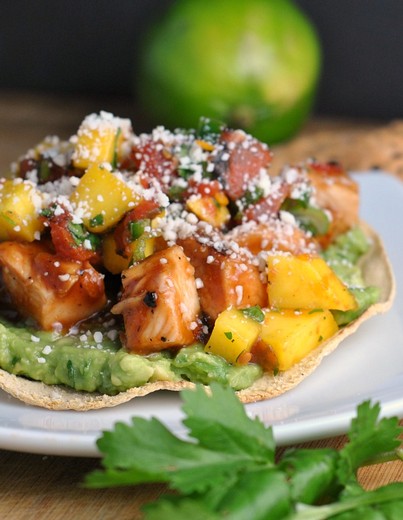 Recipe Date:
January 3, 2019
Measurements:
Imperial (US)
Ingredients
3/4 cup BBQ Sauce
2 tsps Lime Zest
2 tsps Orange Zest
1 Lime, Juiced
1 Clove Garlic, Minced
1 Jalapeno, Finely Diced
1 tsp Cumin
1/2 tsp Salt and Pepper, To Taste
1 1/2 lbs Boneless Skinless Chicken Breast
1 tbsp Olive Oil
1 14.5 oz. Can Roasted Diced Tomatoes, Drained
3/4 cup Mango, Finely Diced
1 Jalapeno, Diced
1/2 cup Fresh Cilantro, Chopped
1 tsp Lime Zest
1 tsp Orange Zest
1 Lime, Juiced
1/8 tsp Salt
2 Avocados
1/4 tsp Garlic Salt
1/4 cup Fresh Cilantro
10 Tostadas
2 ozs Cojita Cheese, Crumbed
Directions
1. Preheat grill to medium-high heat.
2. Meanwhile, prepare the chicken. In a medium bowl mix together the BBQ sauce, lime zest, orange zest, lime juice, garlic, jalapeño, cumin, salt and pepper. In a second bowl combine the chicken, olive oil, and ¼ cup of the BBQ Margarita sauce; toss well.
3. Grill chicken for 6 to 7 minutes per side or until cooked through. Remove from the grill and allow to rest five minutes; dice or shred and toss with remaining BBQ Sauce. Keep warm.
4. While the chicken is grilling, prepare the salsa by combining all of the ingredients in a small bowl; mix well.
5. Mash the avocado using the back side of a fork against the side of a small bowl. Add the garlic salt and cilantro; mix well.
6. To serve, spread avocado over each tostada before topping with prepared chicken and salsa. Finish with a pinch of cojita cheese and serve immediately.