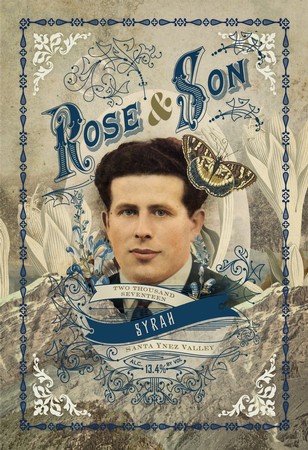 2017 Rose & Son Syrah
SYRAH, 2017
Clone: Estrella & 383
Vineyard: Coquelicot Organic Estate, CCOF Certified Organic
Soil Series: Positas fine sandy loam
Appellation: Santa Ynez Valley
Harvest date: September 6, 17, 20, 21, 2017
Brix at harvest: 22.8 Average 0 brix
Aging: 18 Months Neutral French Oak,
Bottling: unfiltered, March 2019
Production: 94 Cases
Alcohol: 13.4%
Fermentation: The grapes were destemmed into 2 ton open top fermenters without sulfur. Native primary fermentation began within four days. The wine was pumped over twice daily for first week then decreased to once daily. Upon completion of primary fermentation (14 days) the wine was pressed to tank then racked to barrel after settling overnight.
Ingredients: Hand harvested, organically farmed grapes, indigenous yeast, naturally occurring lactic acid bacteria and minimum effective SO2
Label: Maurice Rosenson (Grandfather of Jonathan Rosenson)