Asian Style Chicken Salad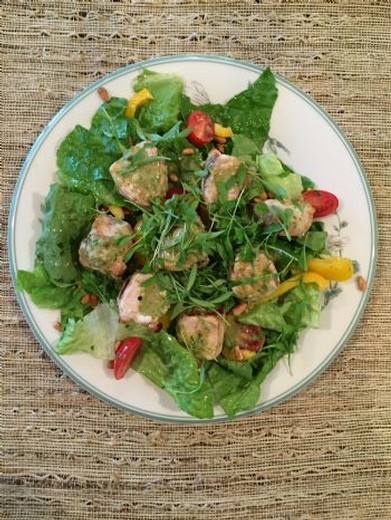 Recipe Date:
July 3, 2019
Measurements:
Imperial (US)
Ingredients
4 Boneless chicken breasts, cut into bite-sized pieces
2 tbsps Toasted sesame oil
1 Garlic Clove, Minced
1 tbsp Toasted Sesame Seeds
1 Head of Boston bibb lettuce
4 Iceberg lettuce leaves, cut into thin strips
1 Yellow bell pepper, seeded, de-ribbed and cut into thin strips
1 cup Sweet tomatoes, cut into halves
2 tbsps Toasted pine nuts
Directions
Place chicken in a bowl and add the sesame oil and garlic. Toss to coat well, cover, and refrigerate for at least 2 hours and up to 4 hours.

Soak 4 wooden skewers in water for at least 30 minutes. Preheat the broiler in your oven or preheat your grill. Brush the marinade off the chicken pieces, drain skewers and thread on chicken. If you cook in the oven, place skewers 4 inches from the heat for about 4 minutes on the first side, then several minutes on the second side until browned and opaque throughout. If you use your grill, cook for about 5 minutes on each side. (You might want to use metal skewers if you use your grill.) Remove from heat and sprinkle with toasted sesame seeds. Set aside.

In a large bowl combine the lettuce, bell pepper and tomatoes. Toss with half the dressing (recipe below) and divide to four plates. Sprinkle the 2 tablespoons of toasted pine nuts on top. Remove chicken from skewers and arrange over the salad. Drizzle remaining dressing over chicken, garnish with a sprinkling of micro-cilantro and serve
Dressing
Ingredients
1 tablespoon pine nuts
4 tablespoons toasted sesame oil
2 tablespoons fresh lemon juice
1 teaspoon soy sauce
1 teaspoon fresh ginger, minced
6 sprigs of cilantro or micro-cilantro (save some for garnish)
2 tablespoons of Sauvignon Blanc
Dressing Preparation
In a blender or food processor, pulverize the pine nuts, then add all the other ingredients and process until smooth.