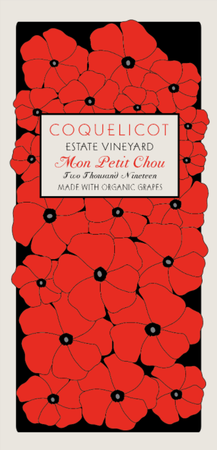 2019 Mon Petit Chou
Fermentation: The grapes were destemmed into 2 ton open top fermenters without sulfur. Native primary fermentation began within four days. The wine was pumped over twice daily for first week then decreased too once daily. Upon completion of primary fermentation (14 days) the wine was pressed to tank then racked to barrel after settling overnight.
Ingredients: Hand harvested, organically farmed grapes, indigenous yeast, naturally occurring lactic acid bacteria and minimum effective SO2.
Tasting Note: At first note the wine is laced with bright raspberry, mushroom tapenade, undertones of dark berry, pepper, and a hint of dust. The palate is liquid velvet, with soft and delicate berry fruit tones, and spice. The finish is perfectly balanced lengthy with a hint of grip.